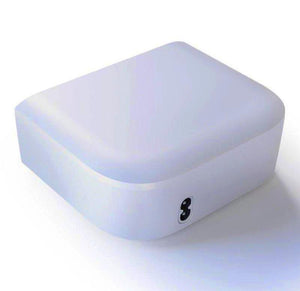 Philips Respironics DreamStation Go Travel Battery
Sleep apnea patients don't have to worry about losing out on a good night's sleep when they travel with the DreamStation Go Travel Battery. The accessory lithium-ion battery pack can power up to 13 hours of cordless CPAP therapy on a single charge, making it the perfect  for travelers or outdoor enthusiasts . 
DreamStation Go Travel Battery Features:
Lithium-ion battery capable of powering 13 hours of CPAP therapy (at 10 cm H2O pressure)
Battery rechargeable via AC power plug, with recharge time between 4 and 5 hours
Fully integrated design fits into DreamStation Go machine body
Battery approved by FAA for air travel
Easily swappable battery design allows extended nights of therapy from multiple battery packs
Powerful Lithium-ion Battery Power
The lightweight and compact DreamStation Go Travel CPAP proves that good things come in small packages, and the DS Go's overnight travel battery follows suit. Weighing only 1.53 pounds, the DreamStation Go Travel Battery carries an impressive amount of energy density, capable of powering a full night of CPAP therapy, and then some. Philips Respironics claims the DreamStation Go battery can power up to 13 hours of cordless CPAP therapy at a pressure setting of 10 cm H2O. The lithium-ion design also recharges when plugged into AC power, with a full recharge taking less than 5 hours.
Integrated Battery Design
Unlike some CPAP battery options, the DreamStation Go Battery is fully integrated into the DreamStation CPAP/APAP machine design. The battery pack slides into place and connects directly to the machine, utilizing the same AC power cord to recharge. The simple design and intuitive operation make for a hassle-free user experience that weary travelers can rely on.
Travel-Friendly Battery
Philips made sure its DreamStation Go Battery ticked all the critical travel-friendly boxes, including FAA approval for air travel and in-flight use (while cleared by the FAA, rules regarding CPAP use in-flight are set by the individual airlines).