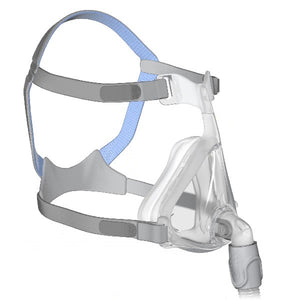 The Quattro Air is the lightest full face mask on the market, delivering the proven performance and reliability of the Mirage in a significantly lighter, more comfortable mask that is easy to use.
Key Features:
Effective.

 

Flex-wing forehead support feels light on the face while providing the right amount of stability for a dependable seal.
Easy to use.

 

Only four parts allows for easy setup, titrations, cleaning and assembly.
Quiet.

 

Circular diffused vents quietly direct air away from the patient and bed partner.
Comfortable.

 

SoftEdge™ headgear design has premium rolled-edge fabric that offers an extra defense against facial marks.
Convenient.

 

The quick-release elbow detaches from the device without patients having to remove the mask, allowing them to get out of bed and easily reconnect to their CPAP device when they return.
Click here to download your free Quattro Air sizing guide